OFFICIAL STATE OF NEW YORK
Heavy Truck Inspection Station - Motor Vehicle Inspection Station
Trailer Inspection Station - Motorcycle Inspection Station
---
Dr.Trailer Repair is setting the standards, not following them! We know what fast turn around time and cost savings mean!

Dr. Trailer is located on 9 acre parcel within minutes of all the major highways, and within minutes of the Canadian Peace Bridge.

Our 14 specialized bays include a 55' service pit. We are well equipped to handle major and minor repairs and major wrecks. We offer pick up and delivery by our professional drivers.

Your company needs its trailers to last longer, perform better and cost less to operate. No other company can provide you with more comprehensive cost effective maintenance than Dr. Trailer Repair!

Our drivers lounge provides you with free television, telephone and internet service. Drivers can be assisted with making overnight accommodations if needed.

We except all major credit cards, COM check or account billing. We are fully licensed and insured. You can feel comfortable that your repair will be completed correctly the first time!
Preventative Maintenance Programs _______________________________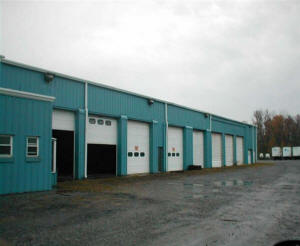 In addition to our repair work, we also provide preventative maintenance programs to help avoid more costly repairs. Whether you own a fleet, are part of a corporation, or are an owner-operator, we'll work closely with you to provide you with an accurate quote for your maintenance program.
Our experience allows us to service and repair your trucks quickly and safely, helping to get you back on the road as soon as possible. We go out of our way to make sure that you understand what is being done to your truck and why, as well as providing all repair options that are available to you.
We take the time to make sure you understand the benefits and disadvantages of each option, helping you to make the best decisions. This is why companies in and around Buffalo, New York area have come to rely on Dr. Trailer Repair.
---
PARTS AND WARRANTY FOR THE FOLLOWING
NATIONAL

LIFT GATE
Free Internet Service - Free Local and long distance telephone CALLS
Free Fax service - Ample parking
---
Contact us today for additional information
470 Fillmore Avenue, Tonawanda, New York 14150 (Buffalo)
Telephone: 716-605-6409 Fax: 716-694-3780
Email: sales@drtrailerrepair.com
David Texido, President: dtexido@drtrailerrepair.com
©Copyright 2010 - Dr. Trailer Repair Inc.
---
trailer parts, truck parts, snow plows, Trailmobile, Buffalo, trailer service, Ravens, Trail King, Fontaine, Dupont, sand blasting, painting, truck equipment, body repairs, truck service, tractor service, fabrication, road service, emergency assistance, trailer inspections, trailer lights, trailer brakes, trailer door, trailer repair, trailer suspension, 24 hour service, trailer parts, truck parts, snow plows, Trailmobile, Fisher, Buffalo, trailer service, Ravens, Trail King, Fontaine, Dupont, sand blasting, painting, truck equipment, body repairs, truck service, tractor service, fabrication, road service, emergency assistance, trailer inspections, trailer lights, trailer brakes, trailer door, trailer repair, trailer suspension, 24 hour service, truck sales, plow sales, trailer sales, Trailer Sales, truck equipment, Truck Equipment, Buy Truck Equipment, truck painting, Truck Painting, Truck Repair, truck repair, 18 wheeler repairk, 18 Wheeler Repair,